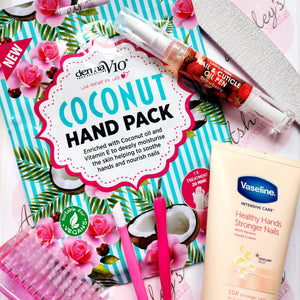 Ashleys custom nails
Hand & Nail care pack
Regular price
$14.00
$0.00
Unit price
per
Tax included.
Do your hands, nails and cuticles need a little pamper? 💆‍♀️💅👐
This care pack has everything you need for an at home manicure without the polish.
1.
Start with washing your hands and using our nail brush to remove dead skin a d dirt from under your nails.
2.
use our cuticle pusher to gently ease ba k any cuticle from your nail plate.
3.
use our cuticle trimmer to removed excess cuticle (dead skin), please be careful with this tool as its sharp.
4.
use the file to file and ruff edges on your nails.
5.
Choose your treatment...
- Cuticle oil pen (has a brush tip for easy application)
- Healthy hands & Stronger nails hand cream.
- Hand pack (hand mask gloves), instructions are on the back.
Enjoy soft beautiful hands 🥰
contents may vary according to stock, brands may vary. Please check ingredients.
---