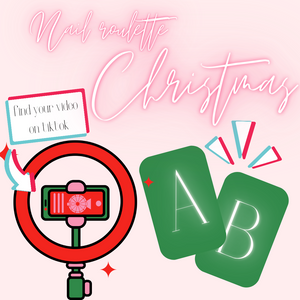 Ashleys custom nails
Christmas nail roulette 🌲
Regular price
$27.00
$0.00
Unit price
per
Tax included.
Fancy a game? 😁
How about nail roulette on tiktok!
If you don't have tiktok you can still choose this nail option just means you won't see the video.
how it works...
Choose your price, type in your Tiktok account, original fitkit and your sizes.
Then use the checkboxes to decide A or B for each section...
I have these cards printed with options on the back (these will change regularly).
When I start your order I'll record your choices and reveal what you've chosen, then show the finished result 👌 
*finished nails cannot be changed, this nail option is for those happy with me to make your nails at random.
---